Product parameter


Power supply: AC220V/50HZ/DC24V-48V
Outputs: carrier communication interface, switch output interface, bus communication interface, TCP/IP communication interface, and DC output interface for zone alarm.
Operating environment:-40℃ ~+65℃, relative humidity: ≤95%
Dimensions: length 300mm× width 200mm × height 110 mm
Display: dot matrix full information LCD screen.
Equipment weight: the whole machine weighs 5Kg.
Power consumption: ≤15w
Warning length: a single device can manage the perimeter of ≤ 3000m.
Positioning accuracy: the positioning accuracy of 1m-50m can be adjusted, and the sector can be set according to the importance and position of the sector.
Communication mode: TCP/IP network communication
Isolation: the isolation voltage of alarm output relay is > >10KV.
Alarm type: intrusion/short circuit/disconnection/power failure/disassembly prevention/failure.
Identification frequency: it can identify the ultra-low frequency signal of 0.01HZ, and can directly distinguish the wind, rain and other signals, and distinguish the environmental interference from the human invasion signal.
Memory in case of power failure: after the detector and the node are powered off, the original working state and system parameter information can be memorized.
Real-time status: Real-time running status includes deployment status, node status, alarm status, communication status and fault information.
Alarm output: each defense area supports independent switching value (normally open and normally closed) and DC12V output.
Zone switch: each zone supports opening or closing the alarm independently.
Material: The shell of the detection and connection unit is made of PC material, which can be installed outdoors in bare condition, and can withstand 7*24 hours of continuous rain and work normally.
Waterproof grade: the waterproof grade of the detection connection unit is IP68
Sensitivity: 64-speed sensitivity adjustment with 8-speed sensitivity H coarse adjustment and 8-speed sensitivity L fine adjustment.
Immunity: It has 1-8 adjustable immunity setting function.
Overload protection: self-protection (short-circuit protection) when the current of the equipment is too large.
Self-disconnection: automatically disconnect from the communication/power supply bus when the fault current of the detection connection unit is too large.
Carrier wave: one cable is adopted to form a list of communication and power supply to reduce costs.
Ultra-low power: ≤10W under 1000m perimeter protection.
Alarm records: The detector can store 254 alarm records independently.
Installation method: M /S /C/straight-line
Installation environment: all kinds of barbed wire, wrought iron fences, plastic steel, brick walls, etc.
system composition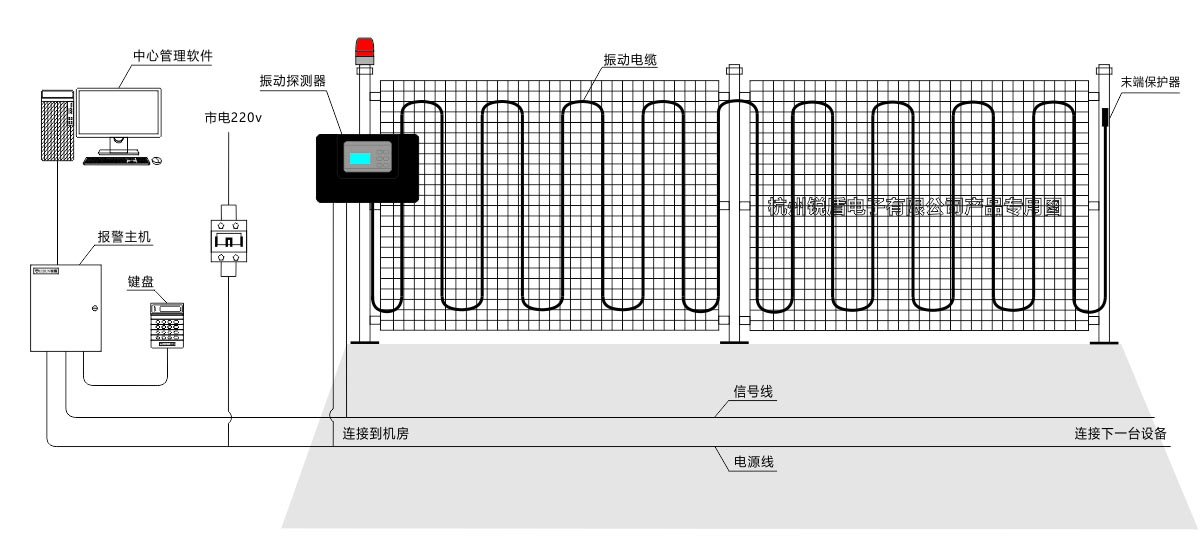 contact us


Hangzhou ruidun electronics co., ltd
Hotline: 400-638-3009
Tel: 0571-82874998
Fax: 0571-82874997
QQ:1428272929
Wechat: ruidundianzi
Address: Ning 'an Building, No.156, Shixin North Road, Xiaoshan District, Hangzhou, Zhejiang Province