Product features


Integrated design: The tension module and controller are designed in an integrated way, which is convenient and simple to install. High-precision tension sensor can detect tiny tension changes.
Multi-alarm monitoring: the tension, relaxation, shearing, anti-disassembly, power failure and other alarms of the steel cable. Innovative detection method is designed to adapt to the temperature change, which can automatically track and automatically compensate the tension error caused by the environmental temperature change, so that the system can run stably for a long time.
Anti-climbing alarm: the front fence detection rod, bearing rod, tension electronic fence and steering rod have anti-climbing alarm function.
Safety in use: the external accessible parts are not electrified, which does no harm to intruders. The tangible physical protection has an effective blocking effect and a certain anti-parabolic effect.
Low false alarm rate: the detection sensitivity can be set according to the needs, effectively preventing false alarms caused by interference of birds, small animals, leaves and twigs.
Stability: It can automatically track the change of the tension of the wire rope with the ambient temperature, and ensure the stability and reliability of the tension alarm threshold.
Multiple alarm modes: wire rope tension alarm, wire rope slack alarm, wire rope shearing alarm, control rod anti-disassembly alarm, self-check fault alarm and power failure alarm.
Appearance: The control rod body is made of aluminum+anti-oxidation treatment, and all accessories screws are made of SUS304 stainless steel.
Coordination with the environment: the design is beautiful and elegant, the installation effect is good, it is in harmony with the surrounding environment, landscape and greening, and it is integrated into a whole, without disturbing the people and causing disgust to users.
Basic parameter



Tension fence controller
Number of zones: 2
Communication mode: RS485
Display mode: 3-inch LCD display
Operation mode: local key operation, remote PC software operation and remote WeChat operation.
And power supply environment
Power supply voltage: DC18 ~ 24V/2A
Backup power supply: DC12V4.5A
Environment: temperature-40 ~+65℃; Humidity ≤95%
Tension module
Sensitivity h: 1-8 gears are adjustable, each gear is 5KG.
Sensitivity: 1-8 gears can be adjusted, 5KG per gear.
Immunity: 1-4 gears can be adjusted, each gear is 1 second.
Alarm time: 10-850 seconds adjustable
humanization design
Material: high strength aluminum alloy.
Protection level: IP65
Alarm: DC12V output
Auxiliary output: DC12V output
Installation requirements
Length of defense zone: the length of a single defense zone is ≤ 40m.
Number of defense lines: 4 lines, other lines can be customized.
Equipment structure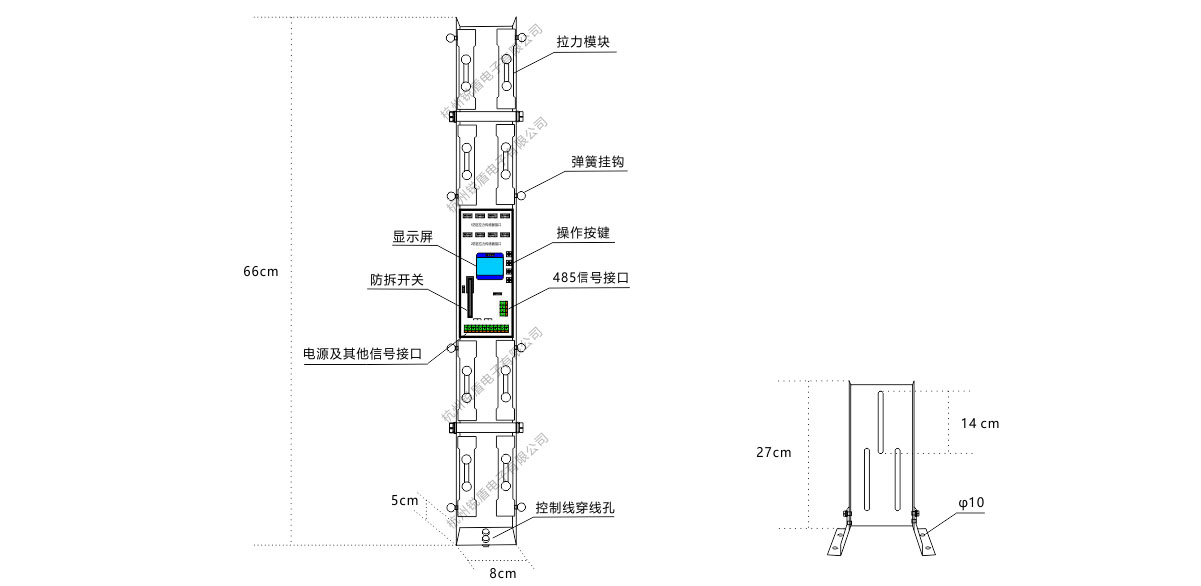 system composition


contact us


Hangzhou ruidun electronics co., ltd
Hotline: 400-638-3009
Tel: 0571-82874998
Fax: 0571-82874997
QQ:1428272929
Wechat: ruidundianzi
Address: Ning 'an Building, No.156, Shixin North Road, Xiaoshan District, Hangzhou, Zhejiang Province